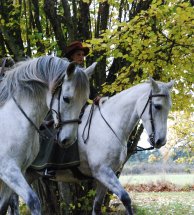 Maja Caspersen has for years been a selected "Bent Branderup ® Trainer"
She is reguarly getting lessons from Bent Branderup and Maja also enjoy to exchange knowledge with colleagues
Beside The Academic art of Riding has Maja intensive been studying and learned from:
–  Centered Riding.
– Noora Ehnqvist (www.sensitivehorse.com)
– Latest (2017) Maja has startet an 'Movement-communication' Education. That Movement therapy and pedagogic is most often used to help dancers and actors to express them-self better. But Maja found that this way of educating the body-language was more than GREAT to teach horsepeople
Maja has developed and is teaching 'Riding Art of Life' education.
Maja is willing to travel for clinics in Europe and surrounding areas.
Clinics

A)
Riding Art of Life in practice:
What will you find in a 'Riding Art of Life' course:
– Focus at  philosophy and the gymnastics of the horse and human
– Finding the inner joy of movement.
– Encouraging playfulness and creativity.
– The 'embodied rider'.
In a 2 day clinic there is:
– 2×3  hours theory and 'Movement Communication'.
– 2×3  hours lessons with horses.
B)
Embody & Awareness in the Riding Art of Life.
I really love and appreciate deeply what this work have done to my self and do for my students.
This clinic is without horses but is mostly valuable and loved among riders who really have understand that to really move with their horse they need to work with their own body & awareness.
We train our skills as a rider and horse person through:
Dance, games, bodywork, contact and awareness in the body, finding the 'openness of the body' and the playfulness in OUR BODY FIRST first.
Price 1600,- Euro + taxes  and travelcosts.
Are you interested in a clinic?
Send a mail to: mail@majacaspersen.dk
Distance-video lesson. 
– We have a live-session where you are filmed, and at the same time can hear me. (Headset)
Or you film yourself training your horse. Max 20 minutes. (You can put it with a hidden link on youtube but not needed.)
-We agree on a online meeting on Skype.
– We meet half an hour at Skype. We look at your film and I give you tips for your further training with your horse and your own bodylanguage.
-You transfer 60 euro before the meeting.
Please send an email to mail@livsridekunst.dk to make an appointment for Distance video-lesson.
Warmly welcome
Maja Caspersen 
"Good teaching of a horse cannot be reduced to technique; good teaching comes from feeling, awareness and integrity of the teacher. ! -Maja Caspersen